Online Evangelism Really Works
With over 1,000 million people already online, the potential for web evangelism is staggering. This is a day of opportunity! You may have the gifts to be involved in web evangelism yourself – and surprisingly, you do not need to be technical!
MISSIONARY SERVICE AGENCIES

A service organization which exists to support Canadian assemblies of the
Lord's people and the workers commended by them.
Support for missionaries in various countries worldwide by shipping supplies via large commercial shipping containers. This organization is supported by a number of Brethren assemblies throughout Canada and the United States.
"…look on the fields; for they are white already to harvest." John 4:35 (KJV)
Here are some items that may interest you: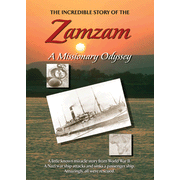 The Incredible Story of the ZamZam: A Missionary Odyssey, DVD
By Vision Video
During the stormy days of World War II, an old Egyptian passenger liner sets sail with 144 missionaries aboard. When a Nazi warship mistakes it for an enemy and sinks it, two photographers on-board capture the precarious plight as everybody abandons ship. See their pictures and hear firsthand accounts from survivors! A miraculous and true story. Approx. 30 minutes.
Special Features:
Additional original film footage
Many still photos covering the event
Excerpts from Miracle at Sea, a book written by one of the survivors
Excerpts from a missionary's journal in PDF format