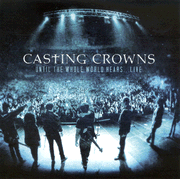 Until The Whole World Hears Live, CD/DVD
By Casting Crowns / Provident Music Distribution
The 2010 Dove Award Artist of the Year winners are on tour—and you've got a front-row seat! The live concert DVD features stadium tracks, teaching sessions from Mark Hall, the title track music video, and behind-the-scenes stories. The CD includes "If We've Ever Needed You," "Glorious Day," "Mercy," "At Your Feet," "To Know You," "Holy One," and "Blessed Redeemer".