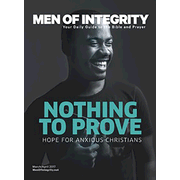 Men of Integrity, 1 Year Magazine Subscription, USA
By Christianity Today Magazine / Christianity Today Intl.
You CAN grow closer to God each day!
If you're like most men today, finding time for daily devotions is tough!
Men of Integrity is the solution you've been looking for!
If you commit just 5 minutes a day to reading this Bible-based devotional by Chuck Swindoll, Tony Evans, and many others, Men of Integrity will become your daily guide to the Bible and prayer. This pocket-sized devotional, published in association with Promise Keepers, gives specific, biblical answers to the challenges that men face today.
You will receive your first issue 6-8 weeks after placing your order with us! Canadian subscriptions are also available.
6 Issues/Year (Bi-monthly)