A beautiful album. 2011 Dove Award Winner for Female Vocalist of the Year, Artist of the Year. She also won Pop/Contemporary Recorded Song of the Year for "Beautiful, Beautiful" on the album My Paper Heart.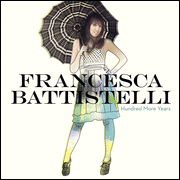 Hundred More Years
By Francesca Battistelli / Fervent Records
The reigning female vocalist of the year returns with a smashing follow-up to her best-selling debut, My Paper Heart! Features the hit single "This Is the Stuff"—plus "Angel by Your Side," "Motion of Mercy," "Constant," "You Never Are," "Don't Miss It," "Worth It," "Good to Know," "Emily (It's Love)," "So Long," and the title track.