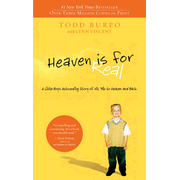 Heaven Is for Real: A Little Boy's Astounding Story of His Trip to Heaven and Back
By Todd Burpo with Lynn Vincent / Thomas Nelson
Is there life after death? Just ask 4-year-old Colton, who emerged from life-threatening surgery with astounding details about heaven! Colton's detailed account includes floating away, looking down on his dad praying in the hospital, seeing God's throne, and meeting relatives—including his sister who died in a miscarriage (and whom his parents had never mentioned). Riveting! 163 pages, softcover from Nelson.