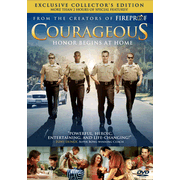 Courageous: Exclusive Collector's Edition, DVD
By Provident Music Distribution
The latest movie from the creators of Fireproof! Police officers Adam Mitchell, Nathan Hayes, and their partners are brave men well-equipped to deal with hardened criminals. But when they remove their badges, they face a more daunting challenge—fatherhood. As their children drift away from them, can these stalwarts find a way to defend and protect those nearest and dearest to them—and draw closer to God? Rated PG-13. Approx. 129 minutes.
DVD Features:
Widescreen
Languages: English 5.1 (Dolby Digital), Spanish
Subtitles: English, Spanish, Chinese, Tagalog, French, Vietnamese, German, Korean
Special Features:
The Making of Courageous
Commentary By The Kendrick Brothers
Deleted Scenes
OUTRAGEOUS: Outtakes & Bloopers
Courageous In 60 Seconds
Heart Of Courageous
The Story of My Father
Exclusive Collector's Edition Features*:
Casting Crowns "Courageous" Music Video
A Church of Prayer
The Importance of Fathers
Role of a Lifetime: Rev. Daniel Simmons
Mark Willard: Ministering Through Music
Erin Bethea: Serving Behind the Scenes
Sherwood Pictures Retrospective
Sherwood Volunteers
* Additional features available only on Collector's Edition