A resource of common expressions and curious words that come from the Bible.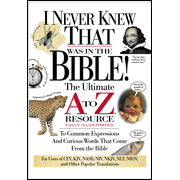 I Never Knew That Was in the Bible
By Thomas Nelson
Phrases like "the blind leading the blind" and "by the skin of my teeth" were in the Bible long before they became common sayings to us. Discover how many more expressions were divinely inspired with this revealing book, then compare KJV sayings to eight other Bible translations. A great resource for word studies! 608 illustrated pages, softcover from Nelson.
This book is the key to truly appreciating the Bible in its religious and linguistic beauty. By recognizing the evolving meanings of the words and expressions in the Scriptures, you will more clearly understand the stories and reap greater value from their messages. Collected here and organized alphabetically are the sometimes humorous but always fascinating stories behind the words and phrases in the King James Bible and how this language compares to nine other contemporary Bible version. Discover which words now have different meanings and also which common, everyday expressions have their roots in the Bible. Entertaining, enlightening, surprising, and unique, this book is overflowing with language rich in heritage. Use this invaluable guide to gain a greater understanding of the Bible, learn remarkable facts about the English language, and impress family and friends with your new found etymological prowess.