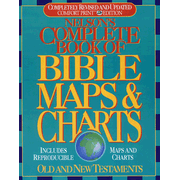 Nelson's Complete Book of Bible Maps & Charts, Revised and Updated
By Thomas Nelson
All the visual Bible study aids you need are in this key resource. Whether you are leading a Bible study group, teaching a Sunday school class or just curious about biblical times, this book has the visual aids to help you and others gain a deeper understanding of the Bible. With the help of reproducible maps and charts you can provide others with the opportunity to accurately visualize the events, places and people in the Old and New Testaments. Add to that the numerous easy to understand tables and surveys inside and you have a visual overview of the whole Bible at your fingertips.
Features:
A visual survey and timelines of the entire Bible that help you put major biblical events, books and characters in context.
Surveys and charts that offer an overview of each book of the Bible.
Easy to read Bible maps that help you see the location of key events.
Historical articles that provide insight into Bible times, tables, charts and diagrams of Bible information that help you focus on key issues.
An introduction to each book of the Bible that organizes important information.