Your children will love these beautifully illustrated books just as mine do (as well as me).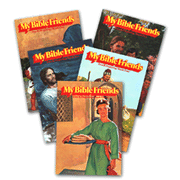 My Bible Friends Bundle, 5 Books
By A. B. Publishing
Packed with lavish color illustrations, these heirloom-quality anthologies of biblically accurate, child-centered Scripture stories are sure to capture the hearts and imaginations of your 6- to 10-year-olds!
Classic set of Bible stories by Etta D. Degering is illustrated in rich color and realistic detail on each page. Glossy hardcovers; each book contains a group of Bible stories.
Book 1: Baby Moses, Baby Jesus, Joseph's New Coat, Joseph and His Brothers
Book 2: Jesus and the Storm, Jesus and the Children, Samuel the Little Priest, David the Youngest Boy
Book 3: Go Wash in the River (Naaman), Elijah and the Time of No Rain, A Room and A Boy (Shunemite woman's son), Barley Loaves and Fishes.
Book 4: Joash, the Boy King, Esther the Brave Queen, Whe n God Washed the World (Noah), The Borrowed Ax
Book 5: Daniel and His Friends, Daniel and the Lions, Zacchaeus the Cheater, Jabel the Shepherd (the Lost Sheep).

If you grew up in the 60's or 70's these books may have been part of your family library. Cover page scenes include scenes from Bible days and family times. The story is told in easy to understand prose with just enough text and picture balance on each page. Descriptive details make the stories come to life and important biblical truths are not diminished.
An investment in your child's Bible learning, it is no wonder this set has withstood the test of time and is still available to new generations of children who can learn the beloved and true stories of the Bible.